Pergola Patio Covers
Are you dreaming of a backyard oasis where you can relax, entertain, and escape the scorching Arizona sun? Look no further than Arizona Sun Control Products, the premier pergola builder and installer in the Phoenix West Valley. Our commitment to quality, innovation, and style has positioned us as the #1 choice for sun control products, including Alumawood™ pergolas, in Arizona.
Serving the Following Areas:
Glendale, Goodyear, Buckeye, Surprise, AZ (Phoenix West Valley).
With our exquisite pergolas and pergola canopies, you can transform your backyard into a beautiful outdoor living space that is both comfortable and stylish. Our pergolas are designed to provide optimal protection from the sun, elevating your outdoor area with a touch of elegance and sophistication. Discover the possibilities of creating the perfect backyard oasis with the help of Arizona Sun Control Products.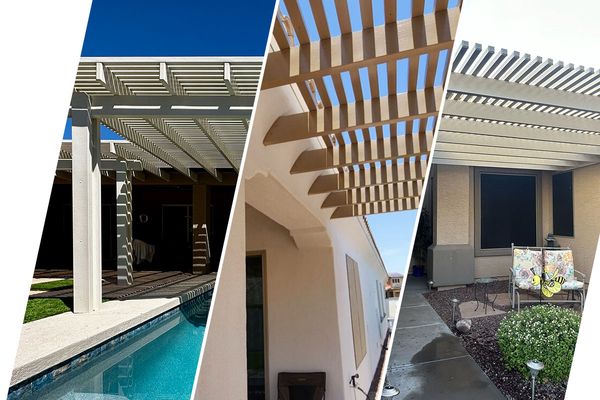 Elegant Design, Perfect Shade
Our pergolas are designed to be both beautiful and practical, adding a timeless, grand touch to your outdoor space. Each pergola is crafted with precision to create the perfect balance of beams and rafters, providing the ideal amount of shade to suit your needs. Whether you're looking for a place to relax and read, a tranquil dining spot, or a space to entertain, our pergola patio covers offer the versatility to make your vision come to life.
A Rich Heritage
Creating a cool and shaded retreat has long been part of Arizona's history. Indigenous people of the area built cane ramadas for protection from the sun, while Spanish settlers constructed haciendas with courtyards providing a shady respite. Our patio shades bring together elements of this historical tradition with modern style and sophistication, making your outdoor space a tranquil and inviting place to relax and unwind. With the perfect combination of classic and contemporary design, you can have a beautiful and functional area where you can enjoy the best of Arizona's outdoor lifestyle.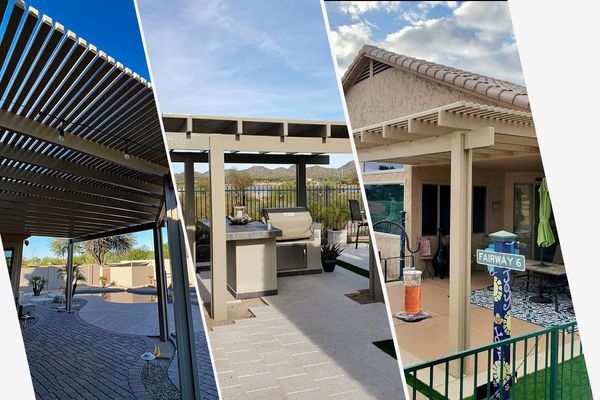 Unmatched Quality and Durability
At Arizona Sun Control Products, we take pride in using Alumawood™ products for our pergolas. These locally engineered and crafted structures are made with durable aluminum construction and have a wood texture finish that won't chip, splinter, or be susceptible to insect damage like traditional wood structures. As a result, you don't need to worry about the hassle of regular maintenance like you would with a traditional wood structure. Your patio cover will remain beautiful and enjoy years of use without the need for painting or other regular maintenance.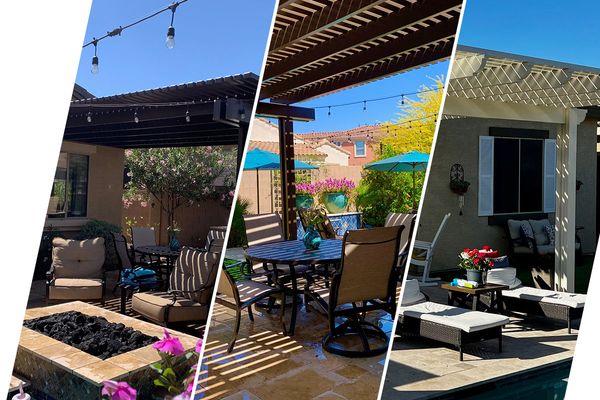 Alumawood Benefits:
Our Alumawood pergola covers provide a beautiful and durable solution for your patio. Not only do they look great, but they are also designed to stand up to the elements. Our covers are treated with the Teflon®-infused Aluma-Shield paint system to help protect them from UV damage, dirt, stains, and more. Plus, they are easy to clean and maintain. With our Alumawood pergola covers, you don't have to worry about sacrificing quality for affordability. Remodel your patio with confidence knowing that you have chosen a product that is both attractive and reliable.

Richly
Textured Wood Finish with a natural look

Strong
Long-Lasting, Maintenance-Free

Customization
Options to Complement Your Home

Teflon® Paint
Weather-Resistant Finish for Extreme Conditions

Seven
Popular Designer Colors to Choose From
Material Information
Are you ready to take your outdoor living space to the next level and create a luxurious and inviting oasis for yourself and your family to enjoy? Arizona Sun Control Products is here to help! We offer an extensive selection of products that are tailored to provide you with year-round comfort and beauty, so you can enjoy your outdoor area in any season. Our pergolas offer the perfect solution to help you elevate your outdoor living experience. Contact us today to get started on your project and start transforming your outdoor area into the perfect relaxation spot!