Custom Patio Covers in Phoenix West Valley., AZ
Top-Quality Solid and Lattice Alumawood™ Patio Covers
Transform your home's outdoor space with a custom Alumawood™ patio cover installed by Arizona Sun Control Products. Contact us today for a free estimate!


About Our Custom Patio Covers
As leading patio cover contractors, Arizona Sun Control Products takes pride in offering high-quality, custom patio covers that enhance the aesthetics and functionality of your outdoor living space. Our Alumawood™ patio covers are a popular choice among homeowners in Phoenix West Valley., AZ thanks to their unbeatable combination of durability and style. Made from durable aluminum, these covers mimic the natural look of wood without the maintenance required for traditional wood structures.
With various design possibilities, Alumawood™ patio covers can be tailored to match your unique style and complement your home's architecture. Whether you're creating a shaded spot for relaxation or protecting your outdoor furniture from the elements, custom patio covers are the perfect solution.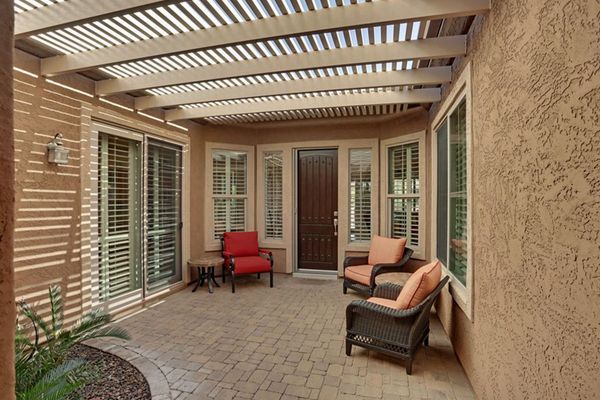 Solid vs. Lattice Patio Covers
When it comes to patio covers, there are two popular options: solid aluminum patio covers and open lattice patio covers. Solid patio covers provide a sturdy and durable shelter, creating a shaded area that offers protection from the sun, rain, and other elements. These covers offer complete shade and privacy, making them ideal for those seeking a fully covered outdoor space.
On the other hand, open lattice patio covers feature a beautiful crisscross pattern that allows partial sunlight to filter through, creating an airy feel. Lattice covers balance shade and sunlight, allowing you to enjoy the outdoors while still being protected. At Arizona Sun Control Products, our team of experts in Phoenix West Valley can help you determine which option best suits your needs.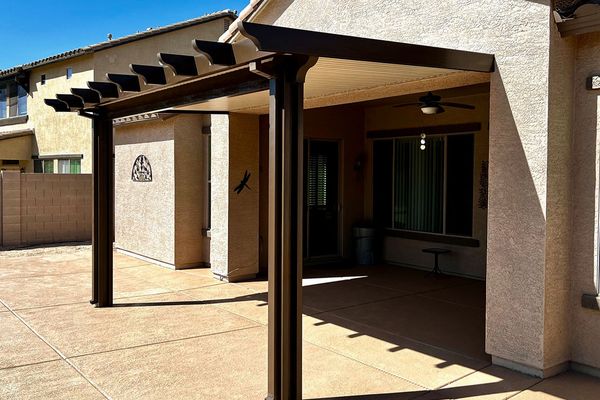 Why Consider an Alumawood™ Patio Cover From Arizona Sun Control Products?
Durable and low-maintenance

Customizable design

Provides shade and shelter

Long-lasting investment

Expert installation

Boosts curb appeal
Ready to transform your home's outdoor space?
Contact us today to get started with a free estimate!